Customer Relationship Management (CRM) is a strategy that companies use to manage interactions with customers and potential customers. CRM helps organizations streamline processes, build customer relationships, increase sales, improve customer service, and increase profitability.
What are we going to learn?
What is CRM?
Few People say it is a technology for managing a company's relationships with customers and prospects; few say it is a software solution that brings a host of capabilities together, and few think it is a system for managing relationships with your customers.
They all may be correct, but we at edge believe CRM is always a strategy, an approach to build, nurture relations with your customers.  
Theoretically, to understand CRM, one should know its history.
Let's time travel back to the early '70s, when customer satisfaction was evaluated using annual surveys or by front-line asking. At that time, businesses had to rely on Standalone Mainframe Systems to automate sales, but the extent of technology allowed them to categorize customers in spreadsheets and lists.  
In 1982, Kate and Robert D. Kestnbaum introduced the concept of Database marketing, namely applying statistical methods to analyze and gather customer data. By 1986, Pat Sullivan and Mike Muhney released a customer evaluation system called ACT based on the principle of digital Rolodex, which offered a contact management service for the first time.
The trend then was followed by numerous companies and independent developers trying to maximize leads' potential, including Tom Siebel, who designed the first CRM product Siebel Systems in 1993. To compete with these new and quickly growing stand-alone CRM solutions, the establishedEnterprise Resource Planning (ERP) software companies like Oracle, SAP, Peoplesoft, and Navision started extending their sales, distribution and customer service capabilities with embedded CRM modules. It included embedding sales force automation or extended customer service (e.g., inquiry, activity management) as CRM features in their ERP. 
SugarCRM developed the first open-source CRM system in 2004. During this period, CRM was rapidly migrating to the cloud, as a result of which it became accessible to sole entrepreneurs and small teams. This increase in accessibility generated a massive wave of price reduction. Around 2009, developers began considering the options to profit from social media's momentum and designed tools to help companies become accessible on all users' favourite networks. Many startups at the time benefited from this trend to provide exclusively social CRM solutions, including Base and Nutshell. The same year, Gartner organized and held the first Customer Relationship Management Summit, and summarized that the features systems should be classified as CRM solutions.      
In 2013 and 2014, most of the popular CRM products were linked to business intelligence systems and communication software to improve corporate communication and end-users' experience. The leading trend is to replace standardized CRM solutions with industry-specific ones or to make them customizable enough to meet the needs of every business. In November 2016, Forrester released a report where it "identified the nine most significant CRM suites from eight prominent vendors".
GOAL: It is Simple. Improve business relationships.
A CRM system helps companies stay connected to customers, streamline processes, and improve profitability. A CRM system gives everyone from sales, customer service, business development, marketing, or any other line of business- a better way to manage the external interactions and relationships that drive success.
CRM application lets you store customer contact information, identify sales opportunities, information about every customer interaction available to anyone at your company who might need it.
What is the importance of CRM?
Before knowing about the importance of CRM, one should know what you lose if there is no CRM- Money, and Customer. That's right! Money is the primary objective and brain of the business, whereas the customer is the heart of any business. And without both, you cannot survive. And to maintain, nurture, or increase both, we need CRM. If customers increase, automatically, money that is revenue will increase.
Looking at the below-mentioned perspectives, we can quickly determine why a CRM System is always essential for an organization. We call the below model as 3CAHO.
What is 3CAHO?

Centralized system:
It's a locker for your most essential data. CRM helps you store all your customer data, sales data, and all interaction with the customer in one place. Also, it makes data available on your fingertips.And, this reduces the processing time and increases productivity.
Cost-effective:
The most substantial aspect of Customer Relationship Management is that it is very cost-effective. The advantage of a decently implemented CRM system is that there is very little need for paper and manual work, which requires lesser staff to manage and smaller resources to deal with.
The technologies used in implementing a CRM system are also very cheap and smooth as compared to the traditional ERP software.
Customer satisfaction & loyalty:
Efficiently dealing with all the customers and providing them with what they need increases customer satisfaction. This will increase the chance of getting more business, which ultimately results in growth.
If the customer is satisfied, they will always be loyal to you. They will remain in business forever, resulting in an increased customer base and ultimately enhancing the net growth of the organization.
Assistance to the salesforce:
A modern CRM plays a significant role in assisting field-salespeople in achieving higher sales numbers and meeting the right targets. It also acts as a virtual assistant for sales executives. It reminds them of upcoming meetings, calls, tasks. It also assists them to identify missed inquiries and ignored customers.
Historical view & analysis:
A CRM system consists of a historical view and analysis of all the acquired or to be acquired customers. This always helps in reduced searching and correlating customers and to foresee customer needs effectively and increase business.
Opportunity of business:
A CRM system is not only used to deal with existing customers but is also useful in acquiring new customers. The process first starts with identifying a customer and maintaining all the corresponding details into the CRM system, which is also called an 'Opportunity of Business.'
The Sales and Field representatives then try getting business out of these customers by sophistically following up with them and converting them into a winning deal. An integrated CRM system very quickly and efficiently does all this.
Why CRM Fails?
The failure of CRM is nothing but the inability of any operational and planning activities in the organization. So it is essential for the organization to check on the CRM execution and to make sure it works smoothly, and everyone uses it effectively. To cope up with the CRM failure, one should first know why it fails because no one undertakes a CRM implementation intending to fail.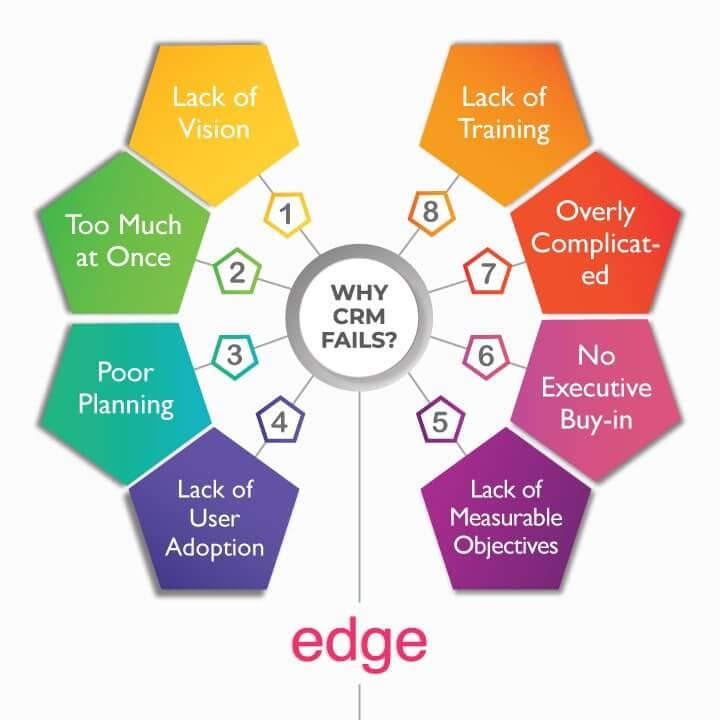 A little research showed CRM failure rates as high as 63%. Below are eight common problems that lead to CRM failures:
Lack of Vision
A successful CRM implementation begins with clearly defined objectives. What problems are you addressing? What specific, measurable goals are you trying to reach? Where do you want your company to be as a result of your project? Your vision establishes the purpose of your project and guides your strategy.
It is impossible to achieve goals that haven't been established clearly. Start with the end in mind.
Poor Planning
A formal strategy is a critical component of any successful CRM implementation. Having a well-designed plan seems obvious, but the lack of planning is often cited as one of the top reasons for CRM failure.
To start, track the movement of a lead through your organization as it travels from suspect to prospect to customer. Map each stage of your customer cycle to its owner to identify stakeholders. Determine each department's needs by meeting with stakeholders.
You can then work on creating a prioritized set of detailed initiatives and corresponding actions that will make up your plan. Identify the people responsible, create a timeline, and establish key metrics.
Too Much at Once
Trying to do everything at once guarantees that you won't do any of it thoroughly. You end up with chaos and confusion rather than the more efficient business processes you imagined at the outset.
Divide your implementation into phases to make the project more manageable. You can work on multiple aspects of your implementation at the same time. Just don't try to complete the entire company-wide implementation all at once.
Lack of User Adoption
For your organization to enjoy the benefits of any new technology, your people have to use it. CRM is no different. Employees not using the system means you're not capturing data at critical points in your customer cycle. Convincing salespeople to focus on something other than selling is often tricky. Some might view CRM software as a tool for managers to monitor daily activity or see who's not hitting their targets. Others could be married to the tools they're familiar with and try to continue using them. Finding ways to motivate your team to adopt new processes and use new tools is necessary for a successful implementation.
​
But how do you do that?
First, users need to be convinced that their old data will still be available, that the new product is easy to use, and that training will be provided. Let them know that you understand that there will be a transition phase and that it takes time to get up to speed.
Secondly, you need to articulate the problems it solves for them as well as the benefits it offers to them. Users don't care about the benefits CRM systems provide to management, so leave those out. Focus on how your chosen solution will automate their processes, save them time, and generate bigger deals.
Lack of Training 
Training is vital to the success of any CRM implementation strategy. It's unrealistic to force a new process, or software application on your team then expect them to be productive right away without structured training.
Find out how much training is available from your software provider and how it is delivered. To get the most out of your investment, make sure your users get sufficient training before and after the implementation.
Overly Complicated
The people who use the CRM system are mostly not technical. If you choose an application that your users don't find intuitive and straightforward to use, they'll find ways to avoid it.
You'll lose valuable data, and your business will suffer.
Lack of Measurable Objectives
It's essential to define how you'll measure success before your project kicks off, but sometimes benchmarks get overlooked. It's difficult, if not impossible, to succeed with anything you're not measuring. Sometimes objectives are set without a clearly defined process for measuring them. Vague targets have about the same value as no targets.
One of your goals in launching your CRM initiative might be to improve relationships with your customers. It's a reasonable goal, but not one that is inherently measurable or specific enough.
How will you measure customer relationship improvement? Are you looking for a decrease in complaints, shorter transaction times, or some combination of factors? You have to know what you're looking for and how to collect it before you implement a new system.
No Executive Buy-in
Having executive leadership establishes commitment and encourages collaboration between departments. Without executive support, your project is likely to be doomed from the start.
You can secure executive buy-in by tying your CRM strategy to the overall company strategy and the bottom line. You get executive buy-in if you can demonstrate that your CRM initiative will drive growth by resulting in better customer retention, more effective marketing, more sales opportunities, and lower costs.
If you want to keep executive buy-in throughout the life of your project, involve senior management in assessing needs and choosing a software vendor. You'll also have to deliver results to keep that buy-in, so establish a reporting and feedback process.
CRM implementations fail at a high rate, but failure is avoidable with the right approach. CRM is not a one-time project. It's an ongoing journey that requires vision, strategy, and commitment to be successful. 
Benefits of CRM for SMEs
Any business to last, one needs to have a strategy and especially, if it is a Small-Medium Enterprises. A CRM application can give you a clear overview of your customers, and flexibility to the user to view their customer's history, the status of their orders & more. Marketers can use a CRM Solution to understand better the pipeline of sales or prospects coming in, making forecasting simpler & accurate.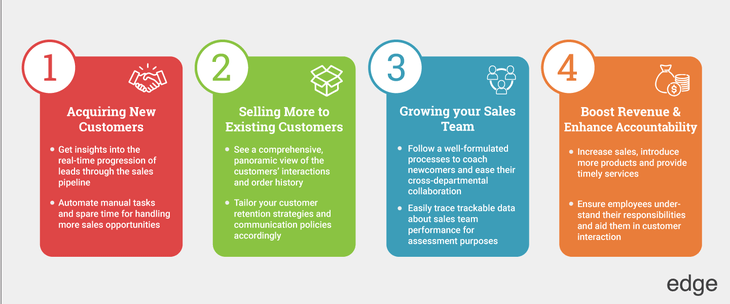 Small-Medium business owners may not be highly techno-savvy as they may not be in favour of investing in CRM software. But as we all know, technology is most important in today's world to be in the race. CRM software products are not available to replace human employees but to enhance their work performance as well as customer relations. That is why expecting several benefits of CRM software to the business are quite natural. Using a CRM application for one's small business is undoubtedly beneficial, so going for an investment is not a bad idea.
Acquiring new customers
With fortunes spent on customer acquisition, losing leads can turn out to be a painful experience, and this is where benefits of CRM come into play to maximize customer conversion rates. B2B CRM application has proved to be one of the most effective instruments to provide insights into the real-time progression of leads through the sales pipeline.
Here are just some of the possible functions that can be enabled in a customized B2B CRM solution to assist in acquiring new customers:
Timely, automated distribution of leads in line with sales reps' competencies and workload. 
Ongoing tracking of the leads, featuring salesforce alerts to remind about follow-ups, appointments, lead nurturing opportunities, etc.
In-built email marketing tools for crafting personalized (and therefore more productive) messages.
Automation of manual tasks, such as reporting and distribution of meeting minutes, which spares time for handling more sales opportunities.   
Selling more to existing customers.       
The key to encouraging repeated orders of your existing customers is to keep them satisfied and guess their needs, as simple as that. However, with the precious bits of customer information scattered across emails, desktops, notebooks, and even brains, it must be challenging to pull it all together in a consolidated view. And even more difficult for the sales reps to 'read' and use this information to reach out to customers effectively.
One of the benefits of a CRM solution is that it serves as a single reference point for the system users by containing a comprehensive, panoramic view of the customers' interactions and order history, which can be easily analyzed and broken down into customized reports to assist with decision-making. Based on these detailed profiles, sales reps can tailor their customer retention strategies and communication policies accordingly.
In case of large accounts handled by several sales reps, insider information passed from one of them to another can trigger crucial actions on the sales department's part, and this is where CRM comes as a critical tool to track, register and implement such cues. Importantly, this information is also visible to senior executives to make strategic decisions.
Growing your sales force
If you find your company expanding rapidly, you may as well see it needs more sales reps to support business growth. Whether this expansion is driven by the market or by your aggressive strategy, you will need to rely on well-formulated processes to coach newcomers and ease the collaboration of your sales force.
Having a CRM system that covers all these functions by streamlining and automating many sales tasks is a reasonable step towards a process-centered approach to sales management. First, CRM is a repository of standardized templates and workflows. Second, it keeps track of all the sales reps' actions and thus can serve as a source of best practices for newcomers. Third, as a centralized system that is accessible by multiple users in real-time, it also facilitates cross-departmental (marketing, sales, finance) and internal collaboration. And lastly, CRM is a useful source of easily trackable data about salesforce performance for assessment purposes.
Boost Revenue & Enhance Accountability
Revenue generation is the most important thing for any company to survive for long in the market. By increasing sales and more products and services, enterprises can generate more revenues.
CRM software can add accountability to customer service as employees in different departments can learn about their responsibility and their work. And that is why CRM software is accountable for any business development.
Who can be a part of CRM?
This is one of the most critical questions when it comes to the CRM application. The answer is not very complex yet, it is not that simple! Understanding the use of CRM in your organization is essential to execute the CRM system. But how can we define who and what type of business/organization can use or be a part of CRM? Here is a simpler way to look at it: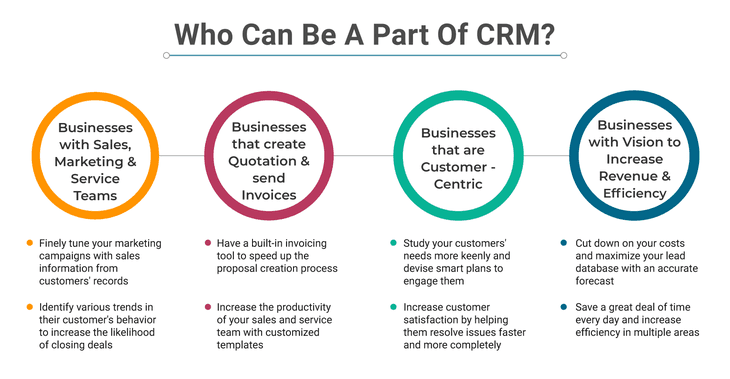 As you can see, there are many reasons why any business would choose to use customer relationship management. Using a CRM application provides numerous benefits to both businesses and customers, and that is why every serious business has implemented some CRM application.
Trying to get by with spreadsheets and sticky notes is a thing of the past. With today's levels of connectivity, businesses are expected to react and act at the speed of light. Who can be a part of CRM is briefly explained below:
Businesses with Sales, Marketing & Service Teams:
Customer relationship management tool can help salespeople to identify various trends in their customer's behaviour as well as it can assist them when selling products, up-selling, or cross-selling. Additionally, CRM software enables sales teams to keep up to date notes on prospects to increase the likelihood of closing deals.
When using the right business CRM solution, businesses can use sales information from customers' records to finely tune their marketing campaigns. Statistics have shown that targeted marketing is much more profitable than flooding as many contacts as possible with marketing campaigns. Doing this not only wastes money, but it is also ineffective and inefficient.
Businesses That Create Quotation And Sends Invoices:
Having a built-in invoicing tool in CRM software applications that are used daily can speed up the quality and invoicing process. Using just one software to do everything in a sales & service can increase productivity dramatically. No more switching between applications to complete tasks – your entire business can be managed from a single location.
Businesses that are customer-centric:
Customers like to feel as though they are wanted, and using CRM can do this. For example, even if a customer telephones a business and gets through to the wrong department, the person they speak to can use their CRM to find that customers' details and transfer them through to the correct department in seconds. This increases customer satisfaction by helping them resolve issues faster and more completely. It might seem like something small to a business, but when it happens in reality to the customer, it will stick with them and give them a better customer experience.
Businesses that Vision to Increase Revenue and Efficiency:
Using just one CRM solution means that a great deal of time is saved each day. CRM software helps you be more efficient in multiple areas, whether it's with click-to-call functionality, integrated service & contract management, detailed customer and prospect notes, integrated marketing automation, and lead scoring. CRM helps businesses of all sizes to cut down on costs and maximize their lead database.